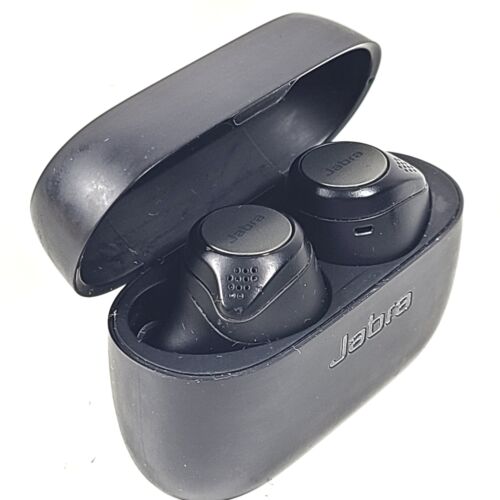 Jabra Elite Active 75t True Wireless Bluetooth Earbuds, Copper Black for Running and Sport, Charging Case Included, 24 Hour Battery, Active Noise…
All prices mentioned above are in United States dollar.
This product is available at eBay, Amazon.com.
At ebay.com you can purchase Jabra Elite Active 75t True In Ear Headphones - Titanium Black for only $42.99 , which is 79% less than the cost in Amazon.com ($199.99).
The lowest price of Jabra Elite 75t– True Wireless Earbuds with Charging Case, Titanium Black – Active Noise Cancelling Bluetooth Earbuds with a Comfortable, Secure Fit, Long Battery Life, Great Sound was obtained on March 19, 2023 20:34.
94.90$
Best deal at:
ebay.com
Buy for best price
Set Lowest Price Alert
×
Notify me, when price drops
Set Alert for Product: Jabra Elite Active 75t True In Ear Headphones - Titanium Black - $42.99
Last Amazon price update was: March 19, 2023 20:14
×
Product prices and availability are accurate as of the date/time indicated and are subject to change. Any price and availability information displayed on Amazon.com (Amazon.in, Amazon.co.uk, Amazon.de, etc) at the time of purchase will apply to the purchase of this product.
Add to wishlist
Added to wishlist
Removed from wishlist
0
Last updated on March 19, 2023 20:34
Compare
Compare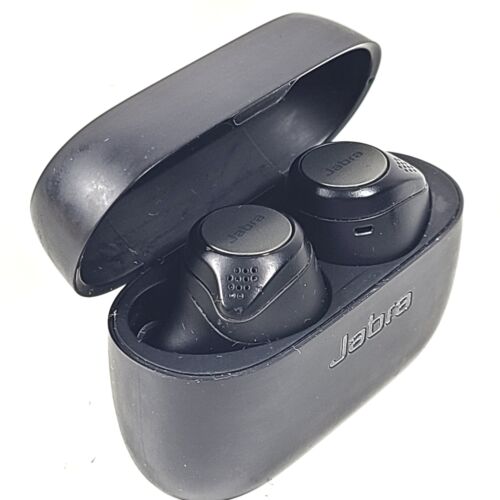 Jabra Elite Active 75t True Wireless Bluetooth Earbuds, Copper Black for Running and Sport, Charging Case Included, 24 Hour Battery, Active Noise…
Description
SECURE ACTIVE FIT – We scanned thousands of ears to create the best-fitting earbuds for a sport that we've ever created, with a special grip coating to make sure they stay in while you move; Plus, they're sweat proof and waterproof with IP57-rated protection and can withstand fresh water up to 1 metre for 30 minutes. Ear gels of S, M ,L for comfort fit.
ACTIVE NOISE CANCELLATION: With these noise cancelling earbuds, you can filter out the world and focus on your music; Use the Jabra Sound plus App to activate ANC the first time you use it and enable toggling between ANC and Hear Through via your Earbud button
CRYSTAL-CLEAR CALLS – 4 microphones, the latest digital signal processing and pioneering beam form technology mean these Jabra earbuds offer great call quality wherever you are; Plus, they're compatible with Siri, Google, and Alexa
LONG BATTERY LIFE – With Jabra Elite Active 75t wireless Bluetooth earbuds, you get up to 24 hours of battery time (ANC on) with the pocket-friendly charging case, the Elite 75t earphones let you take calls and play music while staying connected
MY SOUND IS YOUR SOUND – Our latest pioneering technology tests your hearing in the Jabra Sound plus app, and tailors your music to suit your individual hearing profile; My Sound makes the music you love even better
Related Posts
Additional information
Specification:
Jabra Elite Active 75t True Wireless Bluetooth Earbuds, Copper Black for Running and Sport, Charging Case Included, 24 Hour Battery, Active Noise…
| | |
| --- | --- |
| Product Dimensions | 0.86 x 0.76 x 0.64 inches |
| Item Weight | 1.62 ounces |
| Item model number | 100-99091001-02 |
| Batteries | 3 Lithium Ion batteries required. (included) |
| Wireless communication technologies | Bluetooth |
| Connectivity technologies | Bluetooth |
| Special features | Active Noise Cancellation, Waterproof, Sweatproof, Microphone Included |
| Other display features | Wireless |
| Audio Jack | Wireless |
| Form Factor | Headphones |
| colour | |
| Whats in the box | Earbuds (2), Charging Case, USB-C cable, 3 sets of Silicon EarGels, Warranty and Warning Leaflets |
| Manufacturer | Jabra |
| Date First Available | January 5, 2020 |
Reviews (7)
7 reviews for
Jabra Elite Active 75t True Wireless Bluetooth Earbuds, Copper Black for Running and Sport, Charging Case Included, 24 Hour Battery, Active Noise…
Reviewed by 0 customer(s)
LUIS A.

Los auriculares fallaron justo después de la fecha de devolución de Amazon, por lo que opte por ponerme en contacto directo con Jabra y al enviar la información solicitada me hicieron saber que Amazon no se encuentra dentro de sus distribuidores autorizados y no me quieren hacer valida mi garantía y no encuentro la forma de solicitar a Amazon una devolución. El auricular derecho empezó a fallar, no respondía al tacto con el dedo, después empezó a escucharse muy bajo, seguí las indicaciones que dio Jabra a otros usuarios con el mismo problema pero fue inútil, dejo de escucharse por completo, es un una falla común en ellos y ahora nadie se hace responsable…

KLK

Un gran salto de la versión anterior, que fue un fiasco para mi, les presento la reseña del modelo anterior :"Jabra Elite Active 65t Auriculares deportivos inalámbricos verdaderos habilitados para Alexa con estuche de carga – Azul cobre. Reseña: Menos de un mes de uso me duró el gusto de tenerlos en funcionamiento.
Por favor Amazon, dime dónde puedo hacer válida la garantía si me indicas que ya está "cerrada la ventana de devoluciones", los recibí a principios de abril y salí de vacaciones, no me los llevé y apenas los empecé a utilizar en mayo y el sábado 11 se murieron, así de la nada y ya no tengo oportunidad de la devolución. Por favor ayúdenme, no puede ser posible que algo tan caro, sea tan chafa."

Esta vez se nota al instante la diferencia, tengo poco tiempo de usarlo pero los cambios y mejoras son notables. Esperaré un poco más y les haré una reseña más completa.

Circling the drain

Updated 11/23/2020 after receiving RMA replacement from Jabra:

I'm bumping these to 4 stars. I wish you could give separate ratings for product and manufacturer support though.

The earbuds get five stars. The new set works great. All of my pros below still apply with the addition of the new Active Noise Cancelling firmware update works far better than I expected for an in-ear device that isn't dedicated to ANC. ANC and Hear-through both seem to increase the battery drain.

Support gets mixed review.

All of the individual staff I dealt with get 5 stars for knowledge, helpfulness, and general interaction.

Communication from Jabra support: 2 stars. You basically get one email per 24 hour business day and those emails seem to go out just before the end of business day Jabra support time. It doesn't matter how quickly you respond with requested information or results, I never got a reply any quicker than ~24 hours.

RMA process: Mixed – the process was mostly smooth, but it took 3 weeks to get my RMA. I shipped my RMA back on a Friday. Their shipping was basic UPS ground. Took 10 days to get to Waco, TX. From there (I discovered) it vanishes into a black hole for at least another week. From Waco, Jabra then reships it someplace else and you have no tracking capability.

I called them twice after shipping, On the 18th day after I shipped it back (8th day after it arrived in Waco and was reshipped to their facility) they saw it had been received but the RMA system hadn't marked it as received yet so they didn't ship out my new set. I called and John saw it had been delivered but not marked as received so he marked it as received. As soon as that happened the RMA process resumed and I had my new in three (more days).

=============================================
Original Review
=============================================
(I will update this review after I get the replacement set.)

My audio background: Musician (bass, guitar, piano), heavy podcasts listener, and I spend a LOT of time on calls often in very noisy environments (data centers and radio sites with very high background noise levels).

These earbuds nailed it across the board (jump to the bottom for why I gave them two stars)

Controls: Excellent. The ability to customize each earbud for 1,2, or 3 clicks for each mode was really nice. The controls were very responsive. I did find that almost every time I insert the left earbud it goes into 'Hear-through' mode though but I'd rather have that then have to push the earbud into my ear to activate the button.

Music quality: * Setup note * Take the time to do the customized hearing profile. It is well worth the time.

Overall these are excellent. Not quite studio grade, but way better than I expected. I have some in-ear-monitor wired earbuds I use during sets and the Jabra performs for audio quality as well at those $300+ wired earbuds.

Bass: Punchy without being distorted. Responsive down into the low end without dropping on in perceived intensity.
Mids: Crisp, clean, even at high volume.
Highs: This might the the only weakness I would note and it is minor. When listening to rock, metal, country it wasn't really noticeable. But with pieces with a strong mix of high+mid (flute/high brass/high strings mixed at the same time with something like cello, french horn) or pieces like David Garret or Lindsey Stirling (Roundtable Rival) it can lose a little crispness on the highs. But I think you'd have to be really picky to not buy these because of that.

Call quality: Very good.

In my job good communication can be critical so it is as important to me that I'm heard well, not just how good the other party sounds to me.

I used them for a number of calls and found that the call quality was very consistent. They didn't do quite as well in a low end noise environment (car windows open, trucks in the background, etc.) but that's is a common problem for almost every earbud or over the ear headset I've every tried.

One weakness they seemed to have was wind noise and I suspect this is due to the placement and angle of the microphones. So if you are planning on making lots of calls while running or biking (or walking in a windy environment) you might want decide if the other features outweigh this. It isn't bad enough to be a deal breaker for me though.

Audio podcast quality: Excellent. I find that some over-the-ear sets as well as earbuds can seem sharp and almost tinny due to the over-compressed audio that most podcasts are using. These didn't reproduce that quite as badly as some other earbuds I've tried.

Fit: Good. I would have liked an intermediate size tip between the medium and large though. The medium doesn't hold quite tight enough but the large is just a tiny bit too snug. That said though they did hold in my ears well when walking or performing other activities. I wouldn't want to wear them while doing high-impact aerobic activities though but I haven't yet found an in-ear set that holds up to that.

So….why 2 stars? Because out of the box the audio would drop out if too much of my body was between the right earbud and my phone. I had the phone in my left shirt pocket and turned my head to far to the right the audio would cut in and out. If the phone was in my back rear pants pocket or left coat pocket it was even worse. The only acceptable location was if my phone was in my right REAR pants pocket and I was standing up.

It was even evident when mowing the lawn on a riding lawn mower with the phone in my right front pocket. If my arm was between the right earbud and my phone sometimes it would cut in and out.

The problem was worst when I was moving though which makes me wonder if there is a problem with the antenna connection in the earbud itself.

I've used many other Bluetooth audio devices without this kind of problem including in-ear, over-the-ear, and Bluetooth speakers and audio receivers hooked up to sound systems. So I'm pretty certain it isn't due to a poor radio in my phone.

Support has actually been good except for the fact they only seem to handle one response per day regardless of what time I responded. I would get an email in late afternoon. If I replied IMMEDIATELY to that email I wouldn't get a reply until late afternoon the following day. So it didn't seem to be just related to the a time zone difference in support. That was really frustrating and added several days to my troubleshooting.

On the positive side they didn't make me redo all the various troubleshooting steps I'd already tried before I reached out to them.

Update to follow after I receive replacements.

Ritvik N

I wanted to like these, I really did. Mostly everything about this screams high-quality product. In fact the voice in the earbuds constantly reassure me that it's worth the $200 I spent on them (just kidding, they only inform me of the charge percent each time). I currently don't use this for an "active" lifestyle either, mainly just when I'm out walking my dog, I usually prefer to have something to listen to. So maybe, admittedly, I'm not exactly the right audience for this product. However, I like to think that I did my research on which are currently the best earbuds on the market (I spent many countless hours pouring over reviews, and even some youtube videos). Almost all of them agreed on the Jabra Elite 75t's, or at least gave an honorable nod to them, even if they didn't include it in their lineup of the best buds. So I thought I was locked in to something good, and I was very excited and hopeful.

But, on the first day I was very disappointed. The earbuds almost did not fit at all, and fell out after a couple seconds. I shrugged it off, since I thought it was the earbud size. I switched to both the smaller and larger ones that were included. But each time it was even worse – for the largest buds it fell out my ears in about 5 seconds flat. I switched back to the factory buds that it the product was shipped with, reluctantly accepting that these were my best bet on the fit, and possibly I just needed some time to get used to them. In fact the first day that I actually wore the default size buds, even after a sealed fit (which took me about 10 minutes to prepare in advance), they came out about a half hour into my walk, and I wasn't even moving my head or walking fast at all. It was the left earbud, I believe, and it hit the sidewalk if I remember correctly. I was definitely upset that they would come off like that. These are expensive buds, and they shouldn't come off on the first day, that's the bottom line I feel. But still, I decided to persevere and give them a chance to shine. I was under the impression that the fit would get better over time.

Well, thankfully I wasn't wrong. The earbuds did somehow fit better after the initial day. Now they don't fall out anymore, but I still have this unpleasant sensation that the earbuds are going to pop out of my ear at anytime. I don't know why this is, I've never felt that even in the cheap wireless earbuds that I was previously using. This is not a good sensation to be having with such an expensive pair of buds.

Adjusting the buds used to take me about a couple minutes, now it only takes me a little bit less — however, I still need to tilt the earbuds slightly backward, clockwise, in my ear every time I put them on. I don't remember this being mentioned in the instructions or manual anywhere either, so I'm not sure if I'm the only one. This is all very new and confusing to me, to be honest, and I'm not sure how so many people gave these earbuds a good review. These are just turning out to be a perpetually awkward fit for me. This may improve over time, so I'll be use to update the review when I can, but I've currently had them for about a week and I just *cannot* honestly recommend these earbuds to anyone until I've somehow overcome my problems with them, regarding the fit of all things!

I will be sure to list the Pro's, I have a long list. But unfortunately, the main things I look for in (especially costly!) earbuds are comfort and fit. They are very small things to be sure, but for me they are the most important ones that I would expect any buds to have, so indeed I probably would weight them even more than some other feature such as good sound, for example. It is such a shame, because the aesthetics, the case, the app, and everything else related to the buds really does shine.

Pro's:
+ Sturdy and tall case for the earbuds. These are also unique and makes it easy to identify the Jabra brand, such as it were.
+ Magnetic pull in the case will lock in the buds once you want to put them back in the case to charge
+ USB-C cable is definitely a plus here
+ The earbuds inform you of the charge percent each time you put them on, which is always nice
+ The touch features on each earbud is nice, it allows you to enable hear-through mode as well as play/pause the current song
+ The Jabra Sound+ app is nice and allows you to perform software updates, set sound profiles (haven't really fooled around with this much tbh), as well as see the charge percent on the buds and case

Con's:
– Sometimes the touch on buds are too sensitive. I will sometimes try to adjust the buds in case they are about to fall out, and instead I will enable hear-through or stop the playing song – this is occasionally frustrating to me.
– The sound is often… muddied to me. I don't know how to best describe it, but the sound is definitely not worthy of $200 buds, and sometimes sounds cheap to me. I don't know why this is, honestly. For example I have a cheap pair of wireless buds already, and I can't tell any difference in sound between those and the Jabra's. So.. yeah.
– The buds are not that comfortable, and I can constantly feel them deep in my ears. It's in no way a pleasant sensation. I would expect to entirely not be aware of them at all. Instead I constantly feel them either digging into my ears, or that sinking sensation like they are about to pop out of my ears at any time (of course they don't pop out but stay in, but the feeling is very convincing and disconcerting to me)
– As mentioned, these buds either sometimes fall out of one or both ears randomly, or otherwise will "threaten" to fall out even though they do stay in place. This is a *very* uncomfortable feeling and for the life of me I cannot understand how a $200 earbuds can possible give you a sensation like this. I'm convinced its either bad design, or more likely I'm one of the 1% of people who this earbuds were never intended to fit. Either of those are not good answers to the problem I have experienced thus far.

Overall, for me at least the Con's definitely outweigh the Pro's. I put more weight into comfort and fit, as mentioned, and I don't really care as much about the 'muddied' sound and honestly I could have given that a pass as well. But the comfort, and fit, are both grossly lacking in these buds from what I've experienced so far. It is of my opinion presently that these earbuds are not for everyone, and perhaps particularly not for me.

Again, I will update this review as events develop, and perhaps give it a better rating. I have also ordered a pair of buds from another brand, so I'm eager to compare the Jabra's I currently own with them. If things don't work out, unfortunately I might need to return these earbuds if they still feel the same after a week or two (time will tell).
In conclusion, I really wanted to like these buds, as I think they really do shine in more ways than one. However, it does currently seem that the features that I *was* looking for seem to be sorely lacking in these earbuds, so for now I have given it an average review – again, please don't hold it against me.

Leonardo The Critic

Okay first of all these are some of the best headphones I've ever owned, it's really portable, great battery life, outstanding water resistance that gives me great piece of mind (considering my last pair broke from water damage) and great sound quality. But it is held back from a few key issues I would call deal breakers and ultimately why I've decided I might return my pair and search for something else.

First key issue, no wireless charging. I know this doesn't seem like a big deal to most people but I like to live a wireless lifestyle and for a pair of earbuds to cost almost $300 and not have wireless charging from the gecko is hard to stomach.

Second issue is probably the main reason I'm returning my pair, the right bud is periodically releasing a hissing sound that sounds like soft static, I just noticed it and can't unnotice it and from doing a quick search it seems to be a common problem from the latest Jabra elites. No software update has fixed it thus far.

Third issue is probably me beating a dead horse but these suckers are too damn expensive. I know saying that seems stupid considering how much these headphones offer but when you take into account these don't have wireless charging, experience white noise/ static issues in one earbud of the two, and have some questionable controls then just doesn't seem worth the money.

Alberto Martín del Campo

Normalmente escribo comentarios/reseñas muy cortos, pero haré la excepción en este producto.

Estos audífonos son mucho más de los que esperaba!!!
Inicialmente compré los Jabra active 65t pero los regrese por una ligera interferencia que se escuchaba en el audífono izquierdo. A los pocos días veo que esta versión -active 75t-, está en oferta (3,500 pesos aproximadamente) y al compararlos en varias páginas web contra modelos de Bosé y Sony me animé a comprar estos, ya que traen mas "monerías", mejor rendimiento en batería y mejor certificación contra agua-polvo.

La verdad quede súper contento con los audífonos, a pesar de que JABRA no es una marca tan comercial en Mexico (como BOSÉ o SONY) los recomiendo ampliamente.
-La calidad del sonido es impresionante, tanto en bajos y agudos.
-el tamaño de su estuche es súper pequeño.
-el audífono es muy cómodo y no se resbala con el sudor ni el movimiento (los utilizó para hacer cardio, gym y CrossFit)
-los utilizo aveces en el trabajo para escuchar música y tomar llamadas y todo súper bien.
-La batería le dura lo que promete.
-la customization y los ajustes en la app esta súper bien!!!!

LOS RECOMIENDO AMPLIAMENTE.

LUIS A.

Just got the Elite Active 75T earbuds yesterday and tried it for the first time for a quick workout today. Every-time I am laying down on a side, I lose the sound from either the left but or right bud depending on the side. Updates were done and it sounds like it is a hardware issue. Also sometimes if my shoulder gets too close to the right earbuds I lose connection to my phone.
I upgraded from an Elite Active 65T and never had these problems.